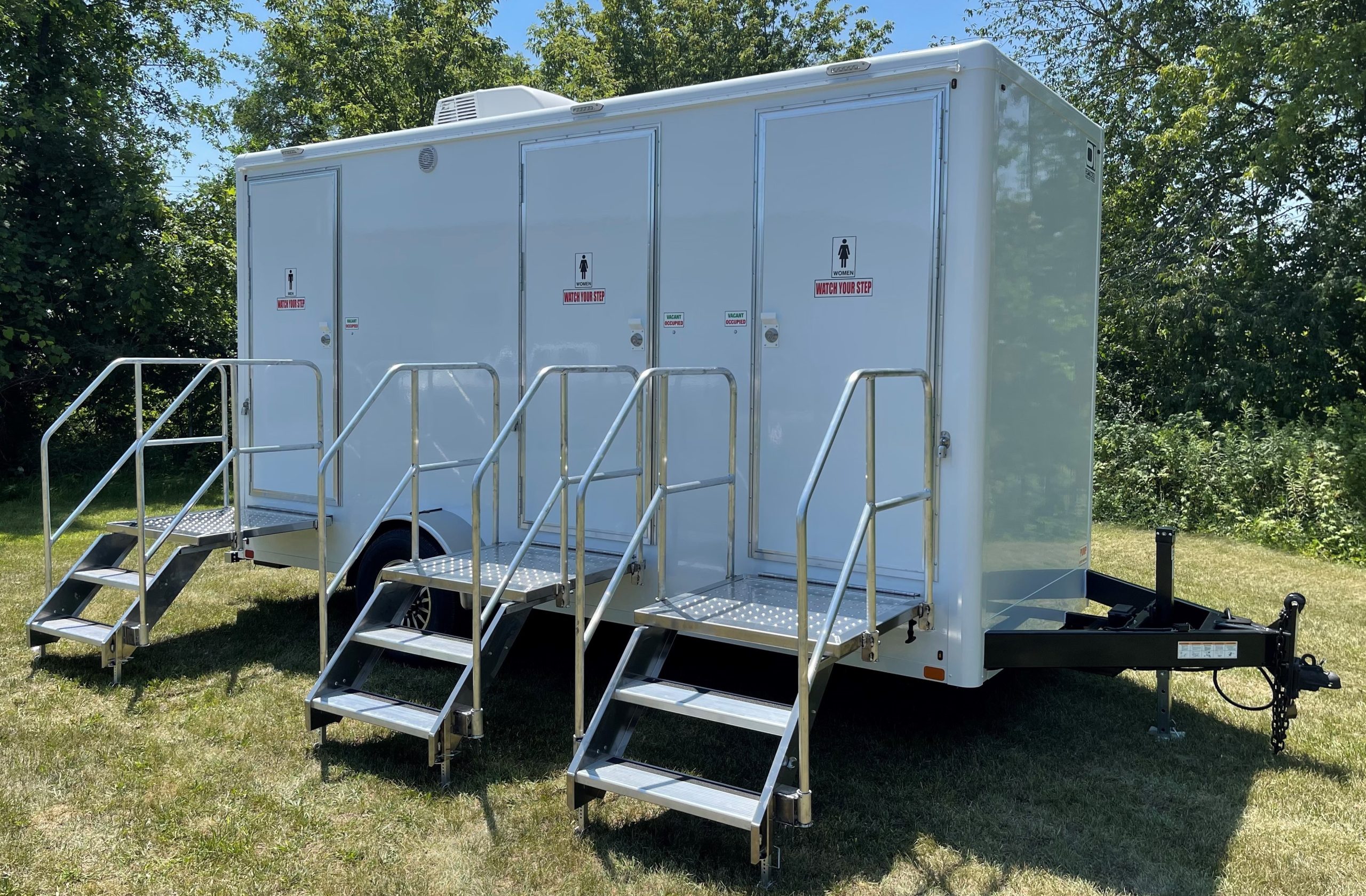 MEET OUR PRODUCTS
Meet Our Product:
The OI difference: We at OI have painstakingly thought about every detail of your restroom trailer. We are obsessed with the user experience not only in, but also with our units. We have provided well thought out and spacious floorplans for the inside users, but we additionally have spent countless hours making sure our units provide a simple and trouble-free experience for the PRO. We are keenly aware that word of mouth is powerful for both us and our PRO's. That is why we put our name on it first. We would not give our operators a unit that we ourselves would not be proud to own, rent out and we will certainly not build a unit that we would not be proud to use.
Exterior
OI's exterior walls and roofs are built with 100% aluminum framing, high density foam insulation and a seamless fiberglass on composite exterior and interior skin. This process produces a strong, consistent, lightweight structure that will not rot, warp, or degrade over time. This type of structure is resistant to moisture, mold, and mildew. As with the rest of the trailer, the roof frame is built with 100% aluminum frame, high density foam insulation and a seamless fiberglass on composite exterior and interior skin to create a water-tight, lightweight structure.
The base of our units is an E-coated structural steel frame with torsion axles for a smooth ride. OI features 16" aluminum wheels and true radial tires that give the unit more strength, a distinct look and better ground clearance.
OI trailers are equipped with a 7,000 lb. tongue jack and an adjustable coupler rated at 20,000 lbs. This allows our units to be easily raised and lowered onto the tow vehicle adjusted to match the height of the tow vehicle hitch and has a clearly marked manual locking system.
OI restroom trailers feature stabilizing jacks on all four (4) corners of each unit. Our units can be stabilized by utilizing these jacks or by using the rear jacks and the tongue jack for a faster and simpler set-up.
The OI waste tank is welded from smooth 3/8" HDPE and is the largest in the industry. It is installed between the steel front and sidewalls of the frame and is configured in such a way that allows for tank access without dismantling the unit.
The gate/pump valve for all OI restroom trailers is mounted on the bottom of the waste tank. The combination of this sump and the smooth HDPE will retard and reduce odor formation by providing a much cleaner and complete emptying of the tank.
The water connection is located on the roadside of the trailer. It is a standard garden hose connection and it can be directed to fill the fresh water tank or hydrate the unit. This eliminates the need to enter the Control Room to fill the fresh tank.
The oversized fresh water drain is located below the control room door and allows the fresh tank to drain quickly and freely. The drain is positioned to allow the fresh tank to drain directly to the ground. Entry into the control room is not required to operate the drain.
Our easy to use entry steps include not only steps, but large porches at the same level as the entry door. This allows the user to enter and exit our units without having to locate the step as they are coming down or having to operate the door while standing on the steps. Our steps also feature adjustable feet and full-length railings on both sides that include multiple attachment points.
All private rooms in OI restroom trailers feature vacant/occupied indicators for easy queue management and flow.
Interior
At OI, we believe in building the most Spacious Interiors while keeping the footprint as low as possible. Our floorplans provide enough room for a pleasant single user as well as a family experience if needed.
OI interior walls feature a seamless, durable fiberglass interior skin that is permanently bonded to a composite backer. OI walls are impervious to water damage to the wall and structure. This feature does not allow mold and mildew and the odors that accompany them.
From our standard rubber floor to our patterned linoleum, all OI restroom trailers feature seamless, transit-grade commercial flooring. Our one-piece installation process creates a watertight surface that is ideal for high-traffic areas. Our floors are very popular in the transit industry due to their tremendous durability.
OI features PVC interior trim in all units and all interiors. This trim is monochromatic throughout and provides exceptional durability and cleanability while warding off mold, rot, and oxidization.
OI restroom trailers feature molded sinks, commercial grade metered faucets and solid-surface countertops. These features ensure your vanity and sink will work properly and maintain a clean, professional appearance for many years. For users, the countertop has an opening to a trash receptacle beneath the sink in the enclosed cabinet. For PRO's, the cabinets are locking which allows for easy and secure storage of supplies.
OI features water-free urinals as we capture the sink water and use it to flush the urinal(s). It features a unique drain trap to keep odors down and does not require a urinal cartridge. OI does offer optional "Waterless" or flush valve urinals.
Toilets feature an intuitive pedal flush design. An innovative flush system efficiently cleans the bowl while using a water-saving pint per flush.
Every OI unit features an advanced Air Conditioning unit that allows guests to have a comfortable, pleasant experience. The cooling system efficiently provides cool air while allowing the trailer to operate from a single 20-Amp electric service. An easy to read digital thermostat in the control room sets the temperature with a sensor located inside the restroom. All OI air conditioning units come standard with a heat strip to take the chill off a cool morning or evening. An optional upgrade to a 15k BTU air conditioner as well as additional heat options are available for more extreme climates.
Options
OI offers different trim levels above our standard interior. The OI Brownstone interior features a cabin look with tan walls and barnwood look floor. The OI Ironside interior features a modern look with gray walls and tile look floor. Both interiors are available in 2-tone where an accent color and chair rail trim are added.
OI trailers feature an optional AM/FM/CD/USB/AUX Bluetooth Entertainment package that allows the event planner, bride, or guest of honor to play their choice of music wirelessly from their mobile device into the trailer. Speakers mounted in the ceiling and a switchable exterior mounted speaker provide different options for a full sound experience.
Another OI option is a powered roof vent package. Roof vents provide excellent ventilation when air conditioning is not required. Our MaxxFan mini vents not only provide a low-profile vent, but the cover allows the vents to be opened even when it is raining.
OI offers a break-away battery upgrade where the standard battery is replaced with a deep cycle marine grade battery that engages the emergency brakes if the trailer becomes disconnected from the tow vehicle, but also acts as a secondary power source for the unit during set up and tear down. This option also includes a battery cut-off switch and a charge line from the 7-way electrical trailer plug.
Thank you for taking the time to learn a little more about our product.